Dura Vent DVL 6 inch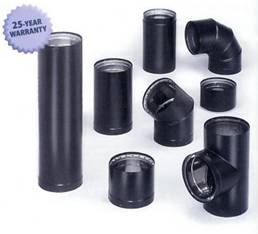 If you have any questions about any of the 6" DuraVent DVL Stove Pipe components please don't hesitate to contact us at: sales@discountchimneysupply.com

**Double wall stove pipe or any "stovepipe" is intended for interior use between the appliance and the wall or ceiling only. "Chimney pipe" must be used with proper chimney pipe kit components to pass through a wall or ceiling, and from that point out.
Click Here for the DVL Product catalog with Specifications and elbow offset chart.
"CHIMNEY PIPE, STOVEPIPE, CHIMNEY LINER LARGE ORDER FREE SHIPPING OVER $150"
UD 21-06-01
Discount Chimney Supply Inc. (2011)