Napoleon 1100, 1400, 1900 Wood Stove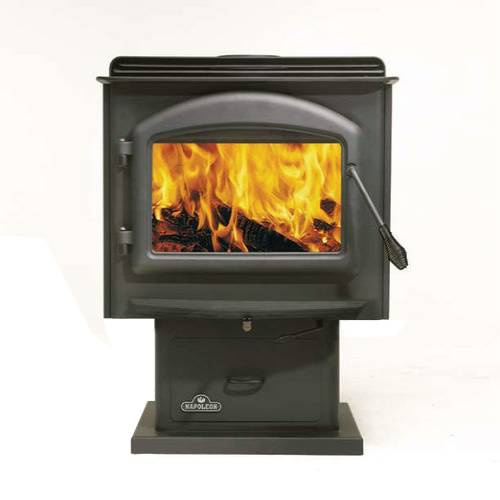 Heats up to 2000 Sq. Ft.

Leg or Pedastal option choice.

Gold & Satin Chrome option choice.

Uses 6" Stovepipe & Chimney.
This unit achieves a clean burn using only a single lever to regulare primary and secondary air flow. Refractory lined for higher internal temperatures help achieve low emmisions. Built in air wash feature helps keep glass clean. Large arched door for viewing the fire.
Doors legs and louvers are avaiable in black, satin chrome, or gold plated and must be purchased seperate from stove itself.
Blowers, thermostatic controls, and ash pan options also sold seperately.
**Free Shipping on 1400 stoves (and accessories on same order). **
"CHIMNEY PIPE, STOVEPIPE, CHIMNEY LINER LARGE ORDER FREE SHIPPING OVER $150"
Discount Chimney Supply Inc. (2011)